Eva Photo Studio is a proud member of PPA (Professional Photographers of America) and WPPI (Wedding & Portrait Photographers International).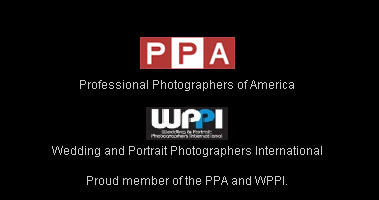 Why choose a professional photographer?
Over the past few years, with the appearance of cheaper DSLR cameras that sell for just a few hundred dollars, more and more people are asking themselves if paying for a professional photographer is worth it.
Hopefully the following two videos will help explain the benefits of hiring a professional photographer to capture the precious moments in your life.
Now you know several reasons why you should hire a professional photographer. However, you may still be wondering why a professional photographer is more expensive than amateur photographers that you see advertised on Craigslist or elsewhere.
The answer has many components:
TIME
• Meetings with client before and after the event
• preparation time (30 minutes to 1 hour, includes equipment checks & vehicle checks)
• 1+ hour travel time TO event location
• 15-30 minutes prep time at location site
• 2 to 8 hours (or more) photographing an event
• 1+ hour travel time FROM event location
• 30-45 minutes uploading time from digital cards from camera to computer
• 30-45 minutes time spent backing up the original images
• 40-80 hours editing your precious images. Getting each image to look amazing.
• 1 to 2 hours creating a custom website and uploading images for you to share with your friends and family
• 2-3 hours time with client for ordering images
• 1 hour sorting through and checking order
• 30 minutes-1 hour prep time for delivery
• 30 minutes-1 hour getting order shipped
• any additional phone time or time needed for add on ordering, shipment issues, quality issues
So, even though you hire a photographer for a few hours, they will be working many more long days & nights to process your images and make them look amazing.
COST of being a professional photographer:
While entry level equipment is now relatively cheap, professional quality equipment is still expensive.
Sample equipment costs:
Professional quality camera body $2,500 – $3,500+
Professional quality Lenses: $1,300 – $2,300 each.
Professional quality flash(es): $450-$550 each.
External battery packs: $400-$700 each.
Professional quality computer: $3,000
Professional photo software: $ 300 – $900 each
And remember that a professional photographer will usually have backups to every piece of equipment they use. Cameras, lenses and all equipment is subject to breaking or malfunctions. Professional photographers are prepared and always have backup equipment so that they can continue photographing without missing a beat or an important moment in time that can never be recreated.
A dependable computer system with software loaded for business and creative usage can run $2500 to $8000 dependent on the photographer. Additional costs involve liability insurance and memberships to professional associations that allow for continuing educational opportunities which help keep your professional photographer at the leading edge of technology and techniques. Add the costs for advertising/marketing, studio samples, backdrops, etc and the costs continue to mount.
When you total up the cost of all the equipment, a professional photographer with a selection of good optical quality lenses and digital storage mediums and computer set up can run from $ 20,000 – $ 30,000!!!
There are also the higher costs of ordering prints and photo products from professional photo labs. They are more expensive but their quality is unequaled by the corner drugstore lab and is meant to last a lifetime.
Cheap versus Quality:
Often times clients will mention that they saw a cheaper photographer on Craigslist or that a friend of theirs does photography as a hobby and can photograph their event very cheaply. Or that X studio in the mall/department store only charges $25 for an 8×10 or they may mention other things related to discount photography chains.
The question that everyone should ask themselves is: if anything goes wrong at an event, will my photographer know what to do to? Will they have the experience and knowledge to adjust and continue to get great images. Will they have the right equipment to allow them to shoot in challenging situations (ie: low light) and still deliver great images? Will they be around after the event and will they deliver everything that was promised? Will they be around in the future and will you trust them to capture all of the other major events in your life and know that they will capture them perfectly so that those moments will be treasured by your family for a lifetime?
There are some things in life that are worth seeking out the cheapest option. Those are usually items that are meant to be disposable. Your photography and memories shouldn't be disposable. A professional photographer will ensure that your precious moments in life are captured and returned to you as beautiful pieces of art that will become family heirlooms. When you really think about how precious your memories are, then I think that you will agree that investing in high quality photography is worth every penny!!